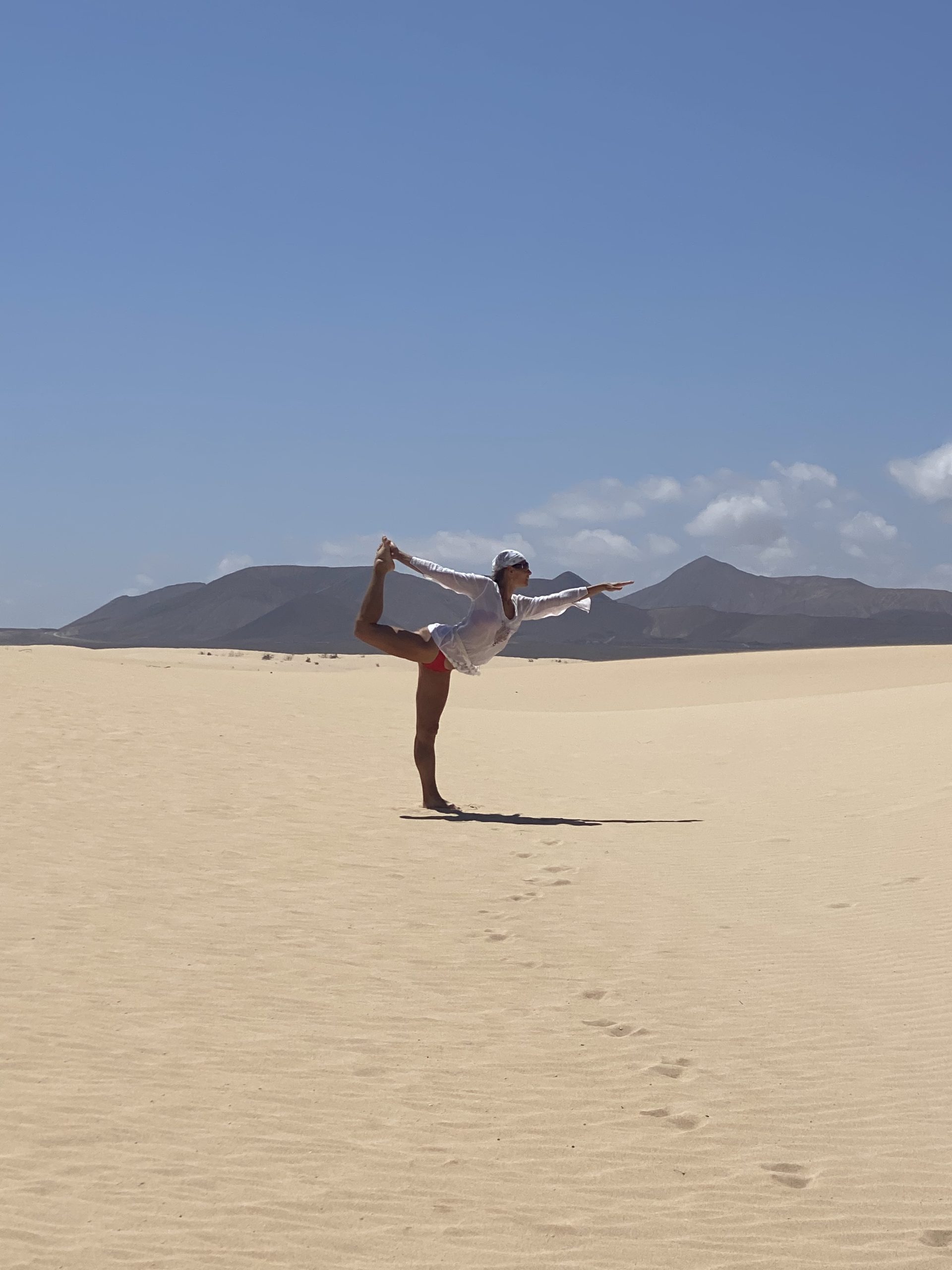 Yoga Holidays
We know how important it is to find time for ourselves, to take break from daily routines, to spend time totally different as usual. Our Yoga Holidays are perfect escape from the everyday hustle and bustle.
We are running Yoga Holidays to a beautiful places where you can connect with nature, recharge your vital energy and slow down busy life with yoga practice. 
24th-29th April 2024
in Corralejo, Fuerteventura
Yoga holidays in Corralejo, Fuerteventura, in April are great invitation to the sun after winter.
24th of April ( Wednesday ) – 29th of April ( Monday ).
Price €580 covers :
– accommodation with breakfast ( double rooms) in beautiful Aparthotel with swimming pool.
– Yoga classes twice a day, morning and evening outdoor and indoor (9-10 sessions)
– airport transfer in Fuerteventura
Additional costs are :
– flights Ryanair
– your travel insurance (optional)
– additional food /beverages
It is your time to connect with yourself, with nature and enjoy life.
Check your calendar and plan your holidays ahead and have something to look forward to 🧘‍♂️☀️
Beautiful weather in Corralejo invites to relax, and enjoy the sea and sun. Tranquil swimming pool area in our aparthotel invites to slow down, enjoy the leisure time, to read a book or have additional nap under the sun umbrella. I have also additional adventures planned : boat trip to Lobos, salsa on Sunday, bike trip, walking to a volcano. It doesn't mean all of them you have to do but as it is yoga holidays I hope you will attend all of the yoga sessions that will nurture, relax, strengthen and stretch your body and mind.
Places are available
If you decide to join yoga holidays let me know personally. To secure your place pay deposit €200 and when at least 8 people decided to go, the flights will be open to book.
How often should I practice to have best results?
The more often you practice yoga the results are feelable or visible earlier. Don't expect a huge changes after just few yoga sessions. Ideally and realistically would be if you could start do yoga twice a week and build it up gradually and organically. Even once a week commitment will benefit your health.
Are there any helpful guidelines for yoga practice?
Yes, here is some guidelines: wear comfortable cothing, practice barefoot, remove all the jewelry, tie up long hair, practice on empty stomach, do not force yourself into difficult postures, go at your own pace.
Can I do yoga if I am not flexible ?
You Don't have to be flexible to do yoga !!! Yoga isn't just stretching, its extremalnie toning, calming, meditative, spiritual, healing and opening. Flexibility is only one aspect of it. Once you practice yoga for a period of time naturally you will gain flexibility with myriad of other benefits. 
.
Do I need to be on a vegetarian diet to benefits from yoga?
No. You can derive benefit from yoga without a special diets. You can be fully as you are because yoga is for everyone !!! 
Are yoga classes safe?
Yes. Yoga classes we teach are safe. Always make sure to discuss your medical conditions with yoga teacher. 
What do I need to bring for yoga practice?
You will need your yoga mat. 
.
Is yoga suitable for pregnancy?
Yes. But it has to be specific pregnancy yoga class. We don't provide yoga for pregnancy. 
.
Yoga online in the comfort of your own home
The morning sessions will help you to wake up the body, focus the mind and set the tone for your day ahead. Classes are on Tuesday, Wednesday and Thursday at 7am.